POWERStudio Data Acquisition (DAQ) Software
We deliberately decided against any operating elements and visualization on our power analyzer series LK601. Instead we developed measurement acquisition software that goes beyond the functionalities of a classic power meter. Whether range or trigger settings. Everything is guaranteed to be quickly accessible in POWERStudio. Easy, quick saving and loading. Various applications and test cycles are quick and easy to launch!
All measurement data are available straight on the computer. No time consuming data transfer via USB stick or third-party software. If our extensive analysis tools are not sufficient, the data can simply be exported into a common format.
Measurement applications are very individual. Our system adapts to your requirements. Not the other way around! Create your own live calculations (from all available data) and display them in the way you need it. Suit up your E-Drive-Systems!
---
The header located toolbar is always accessible and enables quick changes to all relevant channel and trigger settings.
Navigation
The navigation takes place as you would expect from modern apps. The structure is clear, simple and clearly arranged. All settings are max. 2 click away. Break with endless submenus and hidden settings.
Content
The content is visualized in an appealing and clear manner using a modern tile look. Create your own value dashboards and keep control of your testing environment.
User-defined calculations
Transform your test setup with our calculation toolbox to its mathematical representation.
Having demanding testing applications and requirements, it is not enough to simply record the electrical measured parameters. In case a machine's efficiency needs to be calculated, mechanical and electrical measured values have to be correlated. With our DAQ-Software you have the possibility to create your own calculation rules right from the beginning. You can combine all available data with one another. Whether electrical, CAN- or other data.
"Live" and/or post-processing calculation
Freely combine electrical, CAN and other data
Access to a wide variety of mathematical functions
sin(), min(), max(), ....
Scripting and condition functionality
if, else, >, <, = , ....
Custom display options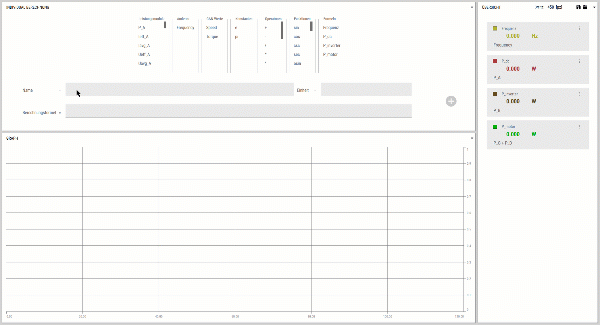 Real-time measurement and FFT
Oscilloscope functions by default
Just because we didn't want to build another oscilloscope doesn't mean you have to give up real-time measurement and FFT frequency analysis. Record current and voltage of all phases in parallel and in real time. With a maximum sampling rate of 10 MSa/s, you can analyze even high-frequency signals with high accuracy.
Parallel recording of up to 6 channels (U + I)
Adjustable sampling rate up to 10 MSa/s
2 GB data memory
FFT frequency analysis for current, voltage and power signal
"Live"-functionality (during testing)
Save, load and export real-time data
Direct analysis option in POWERStudio
Custom views
No corset = More possibilities
Whether in research & development or EOL testing. Every test application is different. We offer the opportunity to create your own dashboard views. The custom views can also be applied to a multi-screen system. Measurement values can be linked to each visual UI-element individually. No matter whether electrical values (P, U, I), CAN-data or user-defined calculation values. Fast, intuitive and simple!
Graphical creation by using DragNDrop
Individual assignment of measured values
Saving and loading dasboards
Variety of visual elements
Linked analysis functions
Multi-screen compatible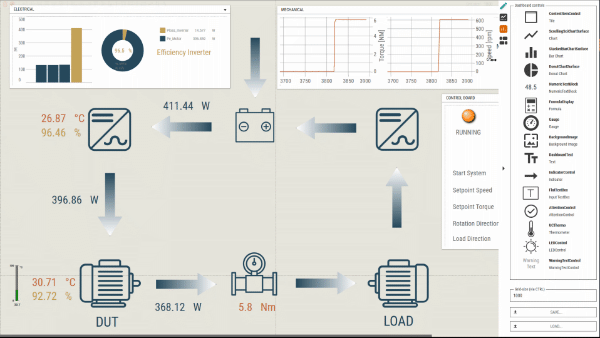 Analysis Tools
No additional software needed
In classic measurement applications, the acquired data is recorded and then exported manually . These are then manipulated and analyzed using third-party software. Alternatively, measuring devices are also integrated into LabView environments. Either cases involve an enormous amount of time and / or money.
With our POWERStudio software we offer extensive analysis possibilities, which are linked with each other across windows and graphs. Of course, all those tools can also be used in conjunction with our customized user views. On- and offline! Load old measurement data and do your data analysis within your self-created visual environment.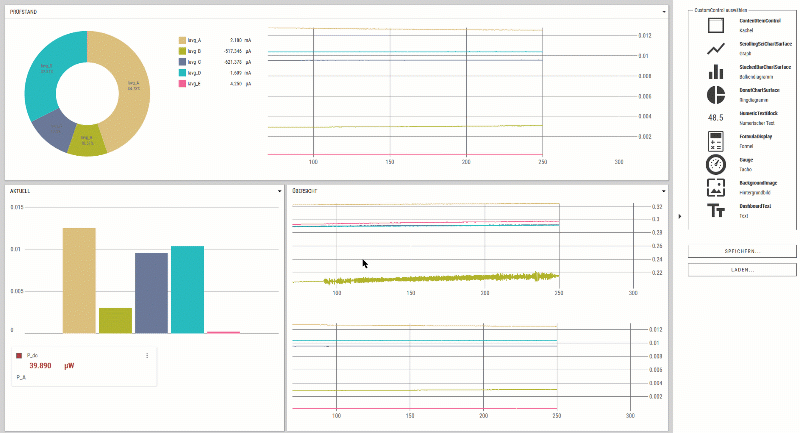 Cursor
You quickly find the precise values and measurement times using the linked data cursor. The cursor is linked to one another across both, graphs and windows.
Averaging
Defining a time window for averaging is quick and easy. All measured values within that window are averaged. Yes, again across graphs and windows.
Zoom
Measurement charts can be enlarged intuitively. The graphs time axes are scaled parallel to one another. No more manually arranged curves.
Hardware Requirements
Required
Recommended
CPU
Intel® - or AMD-Processor 64-Bit; 2 GHz or higher
Operating System
Windows 10 (64 Bit) Version 1809 or higher; LTSC-versions are not supported
RAM
8 GB
32 GB
Video Card
Onboard
DirectX-compatible GPU with min. 2GB VRAM
Hard Disk
2 GB of HDD memory
2 GB of SDD memory
Monitor
1 LCD
2 or more
Screen resolution
1920 x 1080p
2560 x 1440p